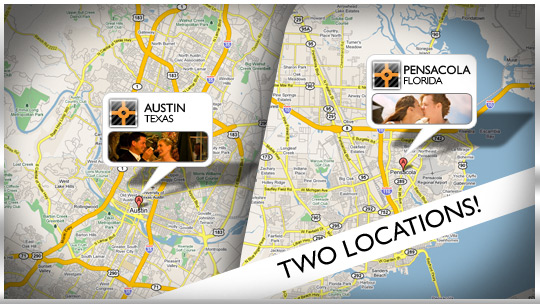 We are a creative agency inspired by life and people. We can help you with any of your design, film or photo needs. Please look around our website and see some of the people who've inspired us and our work.
We are excited to offer our creative services in two US locations. We also do destination work and love to travel. Feel free to contact one of our studios and we will be honored to be a part of your next creative life experience.
Studio 3087 • Pensacola, Florida
Contact: Van Klimetz
Phone: (424) 262-3087
Studio 3087 • Austin, Texas
Contact: Jonathan Austin
Phone: (424) 262-3087
You can also connect with us on our Facebook page: http://facebook.com/studio3087
or connect with us on Twitter and say hi: @studio3087
Photos
Wether your getting married, celebrating another year, or need your next corporate head shot. Photography is about capturing a frame of history. Life itself is creative and each day brings us new opportunities to experience the world around us. Photos give us that sense in a tangible way. The memory that springs to the front of our mind, or even an emotion that wells up when we see a special moment in a photo. We are honored to be asked to take part in so many moments and would love for you to visit ourPhotos page we've shared on our site.
Films
Not everyone can remember the first movie they ever saw, but they can definitely tell you the one that impacted them the most. Movies are a huge entertainment business, but they can also be very personal. Who hasn't enjoyed a hard laugh watching home movies of your son running over your dog, or that special moment as a couple kisses just after their I dos. Some of the best commercials are not remembered because of the products they sell, but because of the impact and creativity it impressed upon the viewer. After the finesse of editing is over, we sit back and enjoy being draw in to the visual story. Please check out our Films page to see some of the work inspired by our clients.
Designs
Designs is such a big word these days. It encompasses so many facets of creative works. From logos to motion graphics, there are so many projects that could fall under this category. Every day we experience design and don't even realize it. Whether it's your favorite place to shop or that favorite little cafe where you like to stop for a latte, design is immersed in every aspect of your experience. We like certain places over others often because of the way they may make us feel. The right graphic can say or convey a certain emotion without even using words. Visit our Designs page to see how are design have been inspired.